If you are looking for a refreshing cocktail, you can't go wrong with a Moscow mule. This delicious Russian drink is fizzy, bubbly, and will give you that feeling of freshness you oh-so crave. And with its medicinal ingredients, it might even feel as if it's a home remedy for a cold. Now that I think about it, in Russia, it probably is. 
What is in a Moscow Mule?
A Moscow mule is essentially a cocktail made with vodka, ginger beer, lime juice, and garnished with a slice or wedge of lime and mint. It's considered a buck; therefore, it's sometimes called a vodka buck. And they are served almost exclusively, in copper mugs. 
Why is a Moscow Mule Made in a Copper Mug?
Moscow Mules are best served cold; freezing cold. And there's no better material for the job than copper. Copper conducts cold temperatures like you wouldn't believe. The copper takes on the cold temperature of the liquid, aiding in that freezing feel and refreshing taste. And Copper mugs are, well, beautiful. If you want to learn a little bit more about copper mugs, take a look at this article that breaks down why copper mugs are used for Moscow Mules.
Bartender topping-off a Moscow mule with mint garnish.
If you do not have a copper mug, stop reading and click on this link to buy a set of copper mugs today! 
How to Make a Moscow Mule
Don't be intimidated by the non-glass mug and the additional ingredients. The Moscow Mule is a super simple drink to make.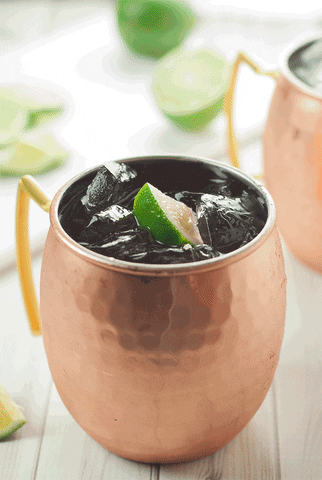 If you are more of a video person, here is a great video from one of our favorite YouTube channels, the educated barfly, where our host explains his favorite way to make a Moscow Mule along with a bit of history. You will definitely want to check this video out.
So you read this far and still haven't picked up your copper mugs? No worries, you are forgiven. Here are two good options that won't break the bank.
[adace_shop_the_post ids="7079,7071″ id="1603654278103″]
How to Make a Non-Alcoholic Moscow Mule
Are you looking for a non-alcoholic Moscow Mule recipe? No problem, just substitute the vodka with a little more ginger beer, and you have a super cold, super refreshing drink the whole family can enjoy.
Conclusion
If you are looking for a refreshing cocktail that will both get you hydrated and hammered, you have to give this super fresh cocktail a try. You won't regret it. And it just might cure that cold feel coming on.
Do you have a Moscow Mule recipe you love? Let us know in the comments. We would love to hear it. If you liked this post, click here to check out our blog where you will find tons of recipes just like this one. Thanks for reading, and as always, stay safe, stay home, get hammered.