Holiday season 2020 is approaching, and the whisk(e)y lovers among us are starting to wonder what new whisky to buy. Either for themselves or as a gift. And even if you aren't a whisky drinker yourself, most probably you know somebody who is or could be.
Rest assured that gifting a good whisky isn't necessarily expensive and an extremely well-appreciated gift for anybody who loves alcoholic drinks. There's no such a thing as too much good whisky.
In the worst case, the unappreciated whisky can end up in cocktails (or just drank with cola…). But buying gifts for serious whiskey lovers can be a difficult task if you don't know anything about whiskey. But we are here to help. Because let's face it, there's a lot of whiskeys out there.
Whiskey bottle with glasses and gifts by a Christmas tree.
Whether you're an expert or a newbie or you need to only think of an appropriate gift for one of your friends, our best gifts for serious whiskey lovers and aficionados list is here to help you in choosing.
1. Balblair 1990 Vintage
Let's start with a not-so-well-known Scottish distillery. Balblair claims to be the oldest one in the Highlands, being founded in 1790, but until recently, most of its production went into blends. The name may not be renowned then, but that makes for a unique gift, doesn't it?
Matured for 21 years in Spanish oak ex-sherry casks, you can expect a well-rounded taste. And this copper-colored whisky does deliver it. Rich and warming, with spices, dried apricots, and figs dominating the aroma, Balblair 1990 Vintage is a relatively easy drink. Lots of spices, fruits, a woodiness taste, and a dark chocolate finish make this whisky very approachable by even the newbies of Scotch whisky. A gift that is warming and flavorful. It's no wonder this whiskey makes our list of gifts for serious whiskey lovers.
2. Highland Park 18
Moving to the Orkney Islands, Highland Park distillery is known for its merge of peated malt and sherry casks. Somewhat a viking-tasting (if that's a thing) whisky.
This 18 years old one is thick. If you're looking for a gift this Christmas that tastes like an elixir, but it's definitely a whisky, Highland Park 18 is right for your needs. Amber in color, with a viscosity that would be more apt in a liqueur, it has sweet, sherry-like notes in the smell. Surprisingly, it's not that heavy at the taste, quite the opposite. Silky and fruity, with a great balance between the smokiness and sweetness that makes this a joy to drink, and easy to as well.
3. Suntory Hibiki Harmony
Why not go east? The Suntory Japanese distillery is a giant and one of the oldest in Japan. This blend of whisky is primarily harmonic, as the name suggests.
Some blends are so rich as to hit you with their punch of different flavors. Others like this Hibiki Harmony are more subtle. Malted grains, cereals, sweetness from raisins, and honey make an orchestra of notes that work together to make a great tasting experience, without fighting between each other. Balanced, mellow, and sweet. A sure bet of a gift and deservingly in our best whisky gifts for Christmas 2020 list.
4. Glenfiddich IPA Cask Finish
An inexpensive offering from the Speyside distillery, it has a little twist in its making: it is finished in an IPA beer cask. That donates the whisky a typical IPA bitterness in the finish that distinguishes it from many other whiskies.
An elegant tasting, golden-colored whisky that is richly fruity, citrus and apples mostly. A light and easy drink, with vanilla notes nicely contrasting with the bitterness coming from the IPA cask. An original whisky, for those looking to make a gift that is not your "yet another typical Scotch."
5. Kavalan Podium
Switching back to the Far East, this Taiwan distillery is one of the youngest you'll have the pleasure to taste. Founded just in 2005, it has climbed the ladder of quality whiskies by receiving plenty of awards, beating much older distilleries.
This Podium is a single malt with a light amber color, a superbly light and rich aroma of vanilla, banana, and papaya. In the mouth, it brings forth all the notes promised in the aroma, adding leather, dried coconut, ginger, pepper, and lots of vanilla.
An easy whisky to drink. Bright and easy on the palate. Perfect for your friend that is still new to whisky drinking.
6. Jack Daniel's Single Barrel Rye
Everybody and their chihuahua know Jack Daniel's. What about a rye whisky from Tennessee, though? Made from 70% rye, 18% corn, and 12% malted barley, this single barrel has the typical rye whisky appearance: dark orange, nearly ruby.
At the nose, it is both rich in corn and brown sugar. Overall rich in spices, like cinnamon and especially pepper, flavors, balancing with the typical corn notes of a Jack Daniel's. Smooth and oily in texture.
This is a great twist on the Tennessee whiskeys, and it makes a gift that is both steeped in a proven taste profile and original notes. That's why it makes our list of gifts for serious whiskey lovers
Breaking Bourbon has one of the most in-depth reviews of Jack Daniel's Single barrel ride whiskey on the web. If you can't get your hands on a bottle, we recommend checking them out and giving their post a good read.
7. Lagavulin 16
The flagship expression from the Islay famous distillery, Lagavulin 16, needs hardly any presentation for whisky fans. A classic expression of the peaty whiskies from the Scottish island, Lagavulin 16 presents itself in a dark copper/amber color, with a cinnamon and vanilla aroma, promising a sweet and rich drinking experience. These characteristics are also reflected in the taste profile: lots of cinnamon, fruity sweetness paired with the typical peated smokiness, dry wood, and pepperiness of the distillery.
It might be hard to find a whisky lover that hasn't heard of this whisky. Still, it's a welcome gift for somebody that you know can appreciate peatiness.
8. Maker's Mark 46
A Kentucky Bourbon couldn't miss our best whisky gift for Christmas 2020. Maker's Mark 46 has the taste you'd expect from a bourbon of this historical distillery, with the twist of added French oak staves to the barrel, for finishing and refining the final taste profile.
Light amber liquid, with a deliciously sweet aroma of vanilla, white bread, toffee, and even cinnamon. You'd expect a creamy bourbon by these aromatics, and you'd be right. Maker's Mark 46 is spicy, with lots of cinnamon, yet light and quite creamy indeed. For lovers of bourbons that aren't made with rye nor too spicy. This one is just light and sweet enough.
To learn even more about what makes makers Mark 46 a special, check out the official makers Mark 46 page.
Conclusions
None of the whisk(e)ys in this list are going to break the bank. They are all accessibly priced, some downright a steal for the quality, and thus able to accommodate any gift you want to make. Pick the taste profile that more closely matches the receiver's taste buds and shop one of these great whisk(e)ys!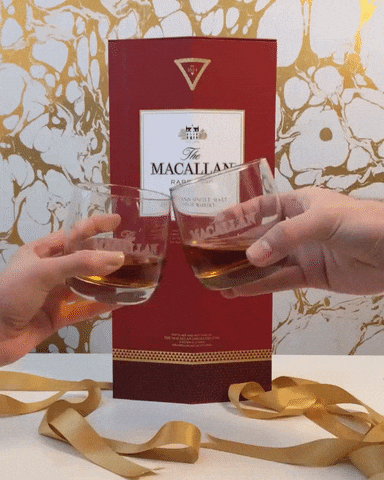 If you enjoyed reading this blog post consider checking out our other post here. Also, feel free to check our shop for some more gifts for whiskey lovers. We'll see you next time. And as always, stay safe, stay home, get hammered. Cheers.