In 2020, the pandemic known as Covid-19 struck, and bars around the world had to close their doors. If there was one thing I missed during that time, among many things, was walking up to the bar and asking the barman for my favorite cocktail ever, the whiskey sour. After a couple of months staying in, I took matters into my own hands, bought a cocktail kit off of amazon, and all of the ingredients. How hard could this be right?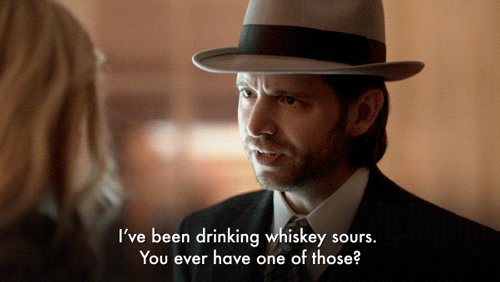 Actually, not that hard at all. I quickly learned my preferred recipe for the whisky sour. That would be the first cocktail that would start my journey into writing about cocktail recipes on a website so that I could help inform others on how to make simple and awesome cocktails from home. That website would go on to be the Cocktail Hammer that you see in front of you today. If you're a history buff like me and what to know more about the history of the whiskey sour, click here. So without any more delay, let's move onto the cocktail that started it all.
What you need to make a Whiskey Sour from home
Okay for the tools you're going to need to make a whiskey sour are as follows: a cocktail shaker, a Hawthorne Strainer, and a fine-mesh strainer. 
Please do not buy the pre-made sour mix from the store. You will always get this artificial flavor profile and will almost certainly lead you to a nasty hangover and an upset stomach the next day. Just squeeze your own fresh lemon juice (two lemons if you're making just one or two) and make your own simple syrup.
Simple syrup is made by boiling 1 cup of water and adding 1 cup of sugar (That wasn't a typo, one full of sugar for an equal cup of water). It doesn't have to boil intensely, just a slight boil to dissolve the sugar. Make sure that you continuously stir until the sugar completely dissolves. If you stop stirring for some time, you run the risk of the sugar caramelizing to the bottom of the pot. When the sugar has completely dissolved, turn off the stovetop and cool down your simple syrup by putting it in the fridge or the freezer.
Some people are a little trepidatious about adding egg white to their cocktail for fear of getting sick. There is no need to worry. You emulsify the egg and any bad properties it could potentially have when you do the dry shake with egg white and the lemon juice and the bourbon. There is no way of getting sick from the actual egg white itself afterward. If you are vegan, you can use aquafaba as a substitute. I strongly urge you to include either of these two because it is the only way to add the delicious foam layer to the top of your whiskey sour cocktail. And trust me, you want the foam layer. 
Conclusion
Well, that's it. See it wasn't so hard. Was our recipe too sour and not sugary enough? Feel free to experiment with the doses to see what works for you. The whiskey sour will always hold a special place in my heart and is arguably the seed that eventually blossomed into the idea to create Cocktail Hammer in the first place. Check out our wine cocktails post to see how to make the whiskey sours' east coast cousin: The New York Sour. Let me know what you think about the whiskey sour in the comments down below. Cheers guys. Let's get Hammered. 
Bonus Video
If you are looking for an amazing whisky sour recipe, I strongly recommend checking these three from Steve the Bartender.